FreightApp: Technology-led logistics and supply chain management.
We honored to be notified of winning the
ZOHO CORPURATION Award
which is the one of the top 10 worldwide software company on earth for 2021
This award is the result of individual action on our CEO Part
Mr. Khaldoun Khouli
during the COVID ban. We are happy with what Midtrans and
FreightApp
got which made us feel very proud of what created by our CEO.
Receipt of the award done online as there are many projects of companies that have competed for it.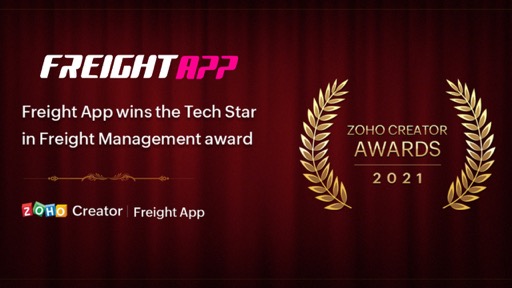 FreightApp
, founded in 2020, is a subsidiary of
Midtrans
, one of the UAE's leading supply chain and logistics companies.
Khaldoun Khouli
, founder of
FreightApp
, realized that the legacy cloud logistics software solution he was using was lacking essential features and had made him dependent on third-party developers for his operations.

He scoured the internet for an alternative supply chain technology, stumbled upon the world of low-code application development, and zeroed in on the
Zoho Creator platform
, due to its easy learning curve and powerful feature set.


FreightApp
, a supply chain and logistics application built on Zoho Creator, has greatly reduced the training time for Khaldoun's new employees, and has allowed him to create a global network comprised of trusted logistics agents, supply chain service providers, and clients across the world. Read about
Khaldoun's
Zoho Creator journey in this ebook.

Podcast