Top Ocean Freight Forwarders
According to economic studies for the year 2020, we mention the most important shipping companies in the world according to the number of containers shipped by them.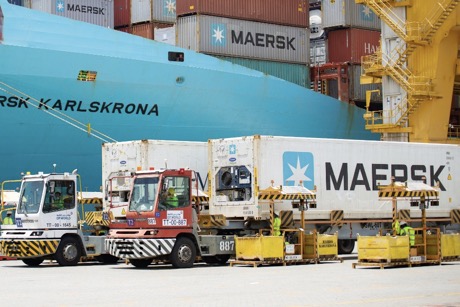 Top 50 Logistics Companies provide logistics services, including freight brokerage, freight forwarding, warehousing and dedicated contract carriage in North America and are ranked on the basis of annual net revenue. Some sector rankings may have been updated since their print publication.



| | | | |
| --- | --- | --- | --- |
| Rank | Company | Headquarters | Ocean Containers |
| 1 | Kuehne + Nagel | Switzerland | 4,861,000 |
| 2 | Sinotrans Ltd. | China | 3,740,000 |
| 3 | DHL Supply Chain & Global Forwarding | Germany | 3,207,000 |
| 4 | DB Schenker | Germany | 2,260,000 |
| 5 | DSV Panalpina | Denmark | 1,907,126 |
| 6 | Kerry Logistics | Hong Kong | 1,325,000 |
| 7 | Expeditors International of Washington | United States | 1,125,137 |
| 8 | C.H. Robinson Worldwide | United States | 1,000,000 |
| 9 | Hellmann Worldwide Logistics | Germany | 955,800 |
| 10 | Fr. Meyer's Sohn | Germany | 850,000 |
| 11 | Bollore Logistics | France | 839,000 |
| 12 | Yusen Logistics | Japan | 815,000 |
| 13 | Geodis | France | 798,137 |
| 14 | Ceva Logistics | Switzerland | 786,600 |
| 15 | Agility Logistics | Kuwait | 740,000 |
| 16 | Nippon Express | Japan | 703,061 |
| 17 | Kintetsu World Express | Japan | 700,043 |
| 18 | Logwin AG | Luxembourg | 690,000 |
| 19 | AllCargo Logistics | India | 684,000 |
| 20 | OOCL Logistics | Hong Kong | 650,000 |
| 21 | Leschaco | Germany | 636,000 |
| 22 | Worldwide Logistics Group | China | 630,218 |
| 23 | UPS Supply Chain Solutions | United States | 620,000 |
| 24 | Damco/Maersk Logistics | The Netherlands | 577,084 |
| 25 | Cargo Services Far East | Hong Kong | 556,000 |
| 26 | Dachser SE | Germany | 536,900 |
| 27 | Toll Group | Australia | 533,600 |
| 28 | China Resources Logistics (Group) | Hong Kong | 500,000 |
| 28 | LF Logistics | Hong Kong | 500,000 |
| 30 | Honour Lane Shipping | Hong Kong | 418,630 |
| 31 | Mallory Alexander International Logistics | United States | 400,000 |
| 31 | Kingway Transportation Company | China | 400,000 |
| 33 | Mainfreight Ltd. | New Zealand | 342,741 |
| 34 | Cargo-Partner | Austria | 314,067 |
| 35 | CJ Logistics | South Korea | 309,851 |
| 36 | BDP International | United States | 302,000 |
| 37 | Chinatrans International Logistics | China | 300,000 |
| 38 | Noatum Logistics | Spain | 289,100 |
| 39 | Hitachi Transport System | Japan | 260,000 |
| 40 | Zhejiang Jiulong International Logistics | China | 250,000 |
| 41 | Nissin Corp. | Japan | 230,000 |
| 42 | Dimerco Express Group | Taiwan | 225,800 |
| 43 | De Well Group | China | 210,000 |
| 44 | EFL | Sri Lanka | 201,958 |
| 45 | Odyssey Logistics & Technology | United States | 200,000 |
| 46 | Horizon Air Freight | United States | 200,000 |
| 47 | Asia Shipping Transportes Internacionais | Brazil | 195,000 |
| 48 | Sino-Ocean Group | China | 192,000 |
| 49 | Zhejiang Chasen Freight Forwarding | China | 180,000 |
| 50 | CWT Pte. Ltd. | Singapore | 170,000 |
| 51 | Topocean Group Inc. | United States | 156,000 |
| 52 | Long Sail International Logistics | China | 150,000 |
| 53 | NNR Global Logistics | Japan | 145,693 |
| 54 | TransGroup Global Logistics | United States | 140,200 |
Podcast