The advantages offered by MIDTRANS in shipping cars from the UAE
The impact of development in the Emirates is characterized by an exceptional speed, because it is proceeding according to a deliberate approach stemming from within the community, as the wise leadership places development at the highest levels of its concerns. From and to the Emirates and for MIDTRANS to adopt a policy of development and creativity in the world of shipping and customs clearance. We meet all your needs and desires to ship cars from the UAE to all cities of the world.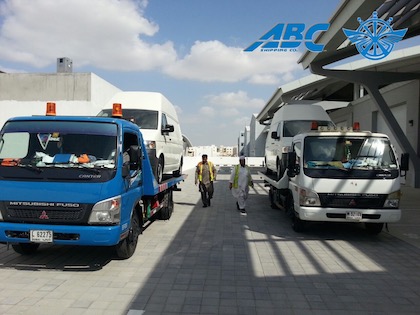 The advantages offered by MIDTRANS in shipping cars from the UAE:
MedTrans has distinguished itself over many years as a pioneer in the process of shipping cars from the UAE through land shipping to and from the Gulf Countries, as well as through sea shipping to cities and ports of various countries of the world, in addition to import and customs clearance services for cars coming from abroad to the UAE, so we are determined to Providing the highest level of service quality at competitive prices and providing all logistical support and solutions to our customers..

Here are the most important features of our car shipping as follows:

Providing both closed and covered model car carriers to protect and secure cars during shipment.
Providing continuous and weekly cruises to ship cars to all ports and cities of the world.
Possessing the ability and experience to complete all papers and procedures necessary for international car shipping.

Providing the best and most effective sea freight services in Dubai that meet all the requirements of our customers and meet their standards.
Extensive experience in air freight operations for cars.
Comprehensive insurance on cars during transportation against shipping risks.
Striving to reduce costs and adopt the principle of competitiveness.
Credibility in delivery times, without damage, scratches or loss.

Seeking to achieve the goal of customers in short distances, reduce time and at the lowest costs.
Diversity in car shipping methods through regular shipping and express shipping, which suits your desires.
The presence of a distinguished work team at a high level of experience guarantees you a smooth and safe transportation across the oceans to meet the various requirements of our customers.
Service areas covered by MIDTRANS in shipping cars from Dubai and the UAE:

MIDTRANS Cargo Services covers the Gulf countries:
Saudi Arabia, Kuwait, Bahrain, Qatar, Oman. Arab countries: Jordan, Lebanon, Syria, Iraq, Egypt, Yemen, Djibouti, Libya, Tunisia, Morocco, Mauritania and Algeria. And the world: Canada, America, Australia, New Zealand, Turkey, Malaysia, Thailand, Singapore, Korea, Pakistan, India and Iran. European countries: Germany, Spain, Holland, Belgium, France, Italy, Greece, Sweden, Hungary, Romania, Bulgaria, Ukraine, Georgia and Russia, in addition to Central Asian countries and many African countries.