New outbreaks trip up logistics for non-ferrous metals in China
New outbreaks trip up logistics for non-ferrous metals in China

Prices surge, but market supply won't be affected: analysts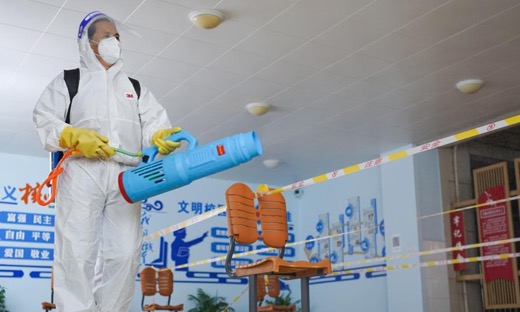 Strict anti-virus measures to stem a new wave of COVID-19 infections in East China's Jiangsu Province have reportedly disrupted the logistics chain for copper and other non-ferrous metals in the province, a major production base, sparking speculation that prices may surge despite China's recent measures to tame skyrocketing commodity prices.

Some metals companies in Jiangsu told the Global Times on Wednesday that they are facing hurdles to ship products out due to the restrictions, while others said that they have had to cut production because of the logistics issues. However, the companies and industry analysts stressed that the impact is limited and will be short-term.

As part of the government efforts to stem the fast-spreading Delta variant, over 20 highway exits and entrances in many cities in Jiangsu, including Nanjing, Taizhou and Yangzhou, have been closed, with a varied impact on logistics for non-ferrous metals firms, industry news portal news.smm.cn reported.

"Shipments have declined significantly recently due to the impact of the Delta variant," a staff member of a non-ferrous metals company in Taizhou, who spoke on condition of anonymity, told the Global Times on Wednesday.

A staff member of a metal-processing factory in Nanjing surnamed Fang said that the company's branches in Nanjing and Lukou had been suspended due to road closures.

"It is simply impossible to ship products. The company has to cut output to cope with the current pressure from logistics, or we have to ship products from Suzhou and other areas that haven't been affected by the COVID-19 so," Fang told Global Times on Wednesday.

The logistics issues have also caused disruptions to copper production. A staff member at Nanjing Baite Metal Products Co told the Global Times on Wednesday that due to delayed delivery of some supplies, "production has been affected."

The logistics issues have sparked speculation that supplies of non-ferrous metals, especially copper, could be tight due to the impact from the new outbreaks and strict anti-virus measures. Jiangsu province is the country's biggest producer of copper, with an annual output of 4.6 million ton.

China has taken tough measures to rein in skyrocketing commodity prices, which have significantly increased production costs for the country's massive manufacturing sector.

However, industry insiders noted that the current disruptions have been limited to only some areas, and won't cause a disruption to the overall market supply and demand.

"There may be some fluctuations [in copper prices], but it would be temporary. The market remains stable in the long run after the industry's self-adjustment and consumption," an industry analyst, who spoke on condition of anonymity, told the Global Times on Wednesday, suggesting that it's merely speculation to think that prices will be driven up by tight supply.

The China Nonferrous Metals Industry Association (CNMIA) said on Tuesday that the industry will remain stable in the second half of the year, but profits might decline from the record highs reached in the first half.

Some non-ferrous metals prices reached historic levels during the first half of the year, with average domestic copper spot prices jumping nearly 50 percent year-on-year and average aluminum spot prices up 31.6 percent, according to the CNMIA.

However, following numerous measures, prices have been declining. On Wednesday, for example, domestic copper spot prices dropped as much as 660 yuan ($102.15) per ton.

While some media reports have suggested that prices for raw materials, including steelmaking ingredients, may jump due to disruptions from the new COVID-19 outbreaks, industry analysts said that the overall stabilizing trend won't be derailed.

"From a macro perspective, the outbreaks will have a certain impact on the economy, but the current small outbreaks won't lead to widespread fluctuations," the industry analyst said.